Global private debt funds had a decent start this year with about 38 of them reaching a close, raising $32 billion in investor commitments in the January-May period, according to Preqin's latest report.
While North America focused funds continued to lead with about 65 per cent contribution to the global private debt fundraising, Europe's share stood at 32.2 per cent, while Asia and Rest of World contributed a mere 1.3 per cent to the total fundraising, the report said.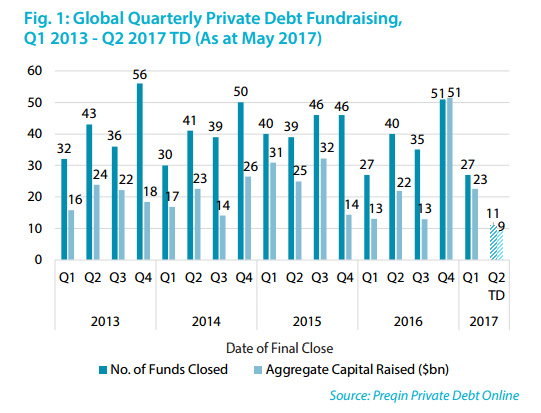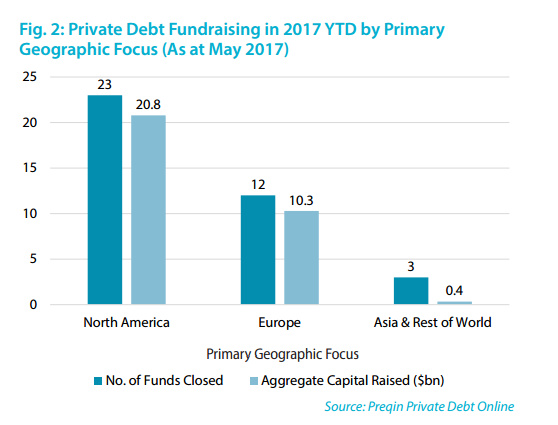 Eleven private debt vehicles had closed since the beginning of April 2017 alone, raising over $8.9 billion in aggregate capital. The largest of these was Cerberus Institutional Partners VI, a distressed debt fund managed by Cerberus Capital Management that surpassed its target size of $3.5 billion, reaching the final close of $4 billion.
Of the 11 funds closed so far this quarter, five were mezzanine funds, five were direct lending funds and Cerberus Institutional Partners VI was the only distressed debt vehicle. Ten of these funds were primarily North America focused, with the remaining fund targeting European investments, it added.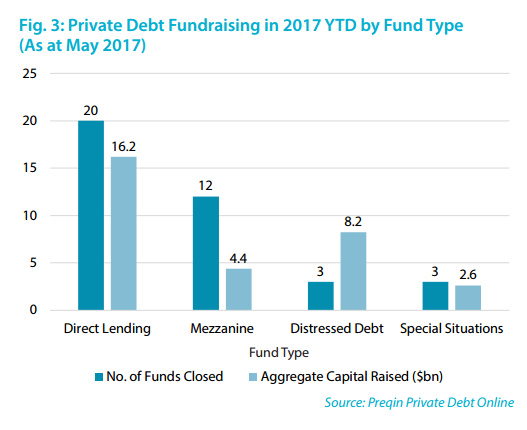 There are currently 299 private debt funds in market targeting an aggregate $121 billion in capital. Of these 165 funds are North America focused, followed by 73 focused at Europe, 29 focused at Asia and 32 at rest of the world.
Direct lending funds represent the largest proportion of both the number of funds raising (45%) and capital targeted (43%). Of the 10 largest private debt funds on the road, five are direct lending vehicles. The largest direct lending fund currently raising capital is HPS Investment Partners' HPS Specialty Loan Fund IV, which is targeting $3.5 billion in capital and is North America focused.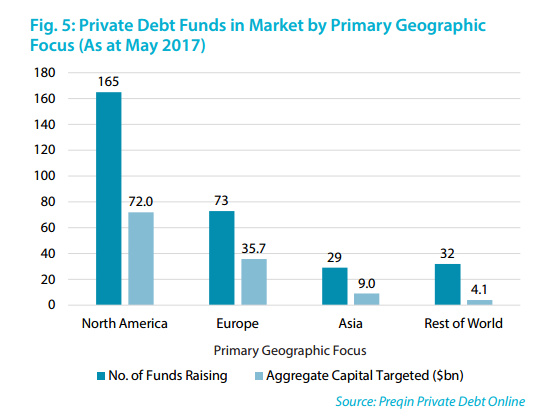 However, the three largest private debt funds are distressed debt funds and together they are seeking an aggregate $14 billion in capital. The largest of these funds is GSO Capital Partners' North America-focused GSO Capital Solutions Fund III, which is targeting $6.5 billion. The other two funds are Apollo Global Management's Europefocused Apollo European Principal Finance Fund III and Centerbridge Capital Partners' North America-focused Centerbridge Special Credit Partners III-Flex, each seeking $3.5 billion in capital.
Preqin's Private Debt Online tracks 67 investors located outside Europe and North America that also have a preference for funds targeting the Asia & Rest of World region. Of these, the largest proportion (18%) are based in Japan, followed by 16% in Israel, 13% in Australia and 12% in India. The majority of these investors are looking to invest in their domestic markets.
HDFC Life, an Indian insurance company, is considering investing further in the private debt market over the coming year, but will only do so domestically. With 61 funds on the road (20% of all funds in market) specifically targeting investment in Asia & Rest of World, opportunity for both investors and fund managers is certainly available, the report said.
As at May 2017, 48 private debt deals were clinched, the portfolio companies being headquartered in either North America (78%) or Europe (22%). In a recent deal, Elysian Capital acquired UK-based marketing and digital media firm Brand Additon Ltd. from HIG Whitehorse for $78 million, with debt financing provided by Beechbrook Capital and HSBC Bank, it added.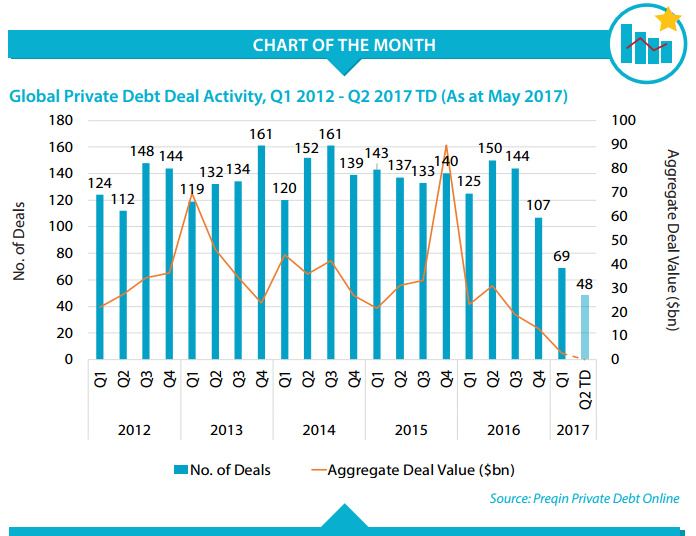 The report further said that sovereign wealth fund investors are increasingly looking to make private debt investments an element of their portfolios. The findings showed that 39% of sovereign wealth funds now invest in the asset class, an increase of five percentage points over the past 12 months.
"Sovereign wealth funds comprise some of the largest investors in private capital, so their increased participation in private debt is likely to have a significant impact on the future of the asset class," said Ryan Flanders, Head of Private Debt Products at Preqin.
"Given their overall tendency to prefer longer-term, lower-risk investments, as more sovereign wealth funds become active in the space we may see a swing towards direct lending investments. At the same time, sovereign wealth funds' ability to commit large sums of capital to vehicles may provide a further boost to future fundraising," he added.
Sixty percent of sovereign wealth funds will target Europe in the next 12 months, ahead of 53% that will seek investments in North America. A significant 43% of funds are looking for opportunities in emerging markets, the report said.
Also Read: A dozen Indian private debt funds on the road to raise $5b
India 2016: Upswing in buyouts & private debt among top deal trends